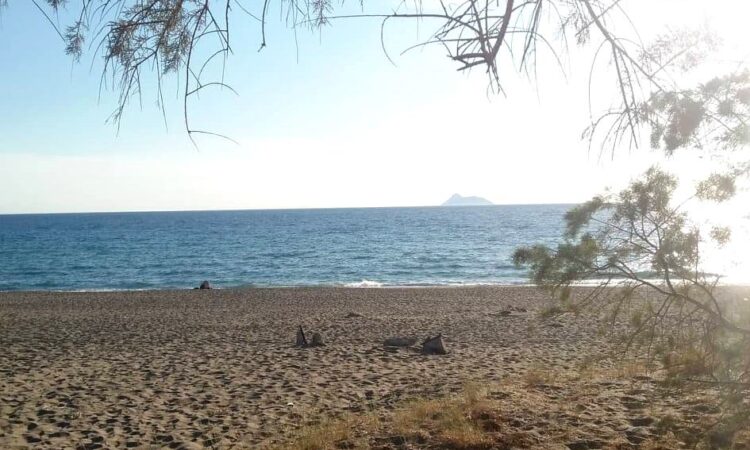 Excursion to Kommos (or Komos) beach.
Kommos (or Komos) is located 66km southwest of Heraklion, just 2km north of Matala and close the village Pitsidia. It is actually the southernmost and the most isolated part of the long beachfront of Messara Bay.
Kommos has an impressive and beautiful beach, one of the largest in Crete
Kommos was once the port of Phaestus. You can still see the ruins of the old port of Kommos on the beach. You can access Kommos by driving in the road heading to Matala, till you see a sign to Kommos near Pitsidia.
The protected loggerhead sea turtles (Caretta caretta) lay their eggs in the sand of the beach, from May to September.
Kommos beach is not your typical beach with lots of people, cafeterias and restaurants. There are only a few tamarisk trees around, not buildings, because Kommos is a protected archaeological area and building is restricted. Next to the archaeological site, on the south, there is an organized beach with umbrellas, sun beds, toilet, showers, a canteen and a lifeguard. All around there are sand dunes where you can admire the white lilies of sand, which sign the end of the summer. If you want to find a place to stay overnight or to eat, you can walk to the nearby Kalamaki, or drive to Pitsidia and Matala.
People don't come to Kommos just to swim, but also for the beautiful view and spectacular sunset. The views to Paximadia islets is stunning, especially during sunset. The beach extends along the Bay of Messara and you can see the vast blue Libyan Sea spread out before you. The Paximadia islets trick observers by seeming to change shape depending on your position and viewpoint. Late in the afternoon, the sun sets behind the islets, offering you one of the loveliest sunsets in Crete.
Just opposite the archaeological site, 300m in the sea, you will see a beautiful big rock, which the locals call Volakas. Volakas could not be absent from the Greek myths. Locals say that the stone is the top of the boulder that the blinded Cyclope Polyphemus threw against the ship of Odysseus in order not to escape. This was after Odysseus, with his companions, escaped from Polyphemus' cave.
You can ask us for the price.